DCC Control and Programming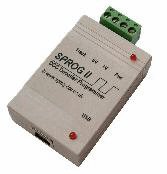 Controlling model railroad operation increasingly uses DCC, and the SPROG family of DCC devices offers the ideal solution for programming and maintaining your fleet of DCC-equipped locomotives, in any scale from Z to G!
With the industry's most comprehensive support for decoders from all the leading manufacturers, the SPROG DCC family offers the easiest DCC programming, and also the power needs to run your layouts.
Easy Programming!
The SPROG II, SPROG 3 and Pi-SPROG family all offer full NMRA standard DCC programming for any manufacturer's standard-compliant DCC decoders, and use JMRI DecoderPro software running on your computer.
All are supplied with comprehensive installation instructions and a lifetime warranty and support. All needed software is available for download online.
The difference between models is the power available, and the computer. SPROG II is ideal for smaller scales, and comes with a 12V 1A capability; SPROG 3 or the Pi-SPROG model family provide exactly the same programming and operation functions, and also offer 2.5A capacity for larger layouts, and a choice of power supply voltages for larger scales or for some of the newer sound decoders that like a little higher voltage for reliable programming.
Build or buy a complete system for setting up and running any DCC locomotives.
See more Pi-SPROG details, or click here to order your Raspberry Pi DCC solution.
provides a one-stop source for setting up and running any DCC locomotives.
See more SPROG II details, or click here to order your 1A DCC programming solution.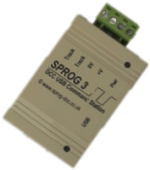 provides the same programming and control features of the SPROG II, in the same compact package, but with a major increase in available power output.
The power increase is really useful for those wanting to run their layout from DCC, in the most economical way.
See the SPROG3 full details, or click here to order your 2.5A DCC operations solution.
There are several SPROG products now available, so which one is right for your needs? See our Product Selector.
Layout Operation
In addition to the layout operation possible with the SPROG II, SPROG 3 or Pi-SPROG, SBOOST allows you to split your layout into self-contained power districts, include auto-reverse sections and expand your layout possibilities. And for the most economical layout operation configuration, the SPROG Nano drives any number of boosters from a simple computer connection.
is specifically designed for use with SPROG II, SPROG3 or SPROG Nano, and the new Pi-SPROG, and allows for more power districts, and also auto-reverse sections.
Find more about SBOOST, or click here to order your 2.5A DCC booster solution.

SPROG Nano is a low cost USB interface that allows your DCC power boosters to be connected to a computer running Windows, MacOS or Linux.
The ideal companion to the SBOOST, SPROG Nano interfaces your computer in the most compact package.
See the Nano, or click here to order your Computer to DCC booster interface solution.
Our additional products and solutions
Have you ever wanted to know the scale speed that your trains are achieving? Now you can do so, easily.
We offer options for tracking the speed of your locos, running on the layout or during setup, and provide support and assistance when you need to get the very best out of your fleet.
See our layout Model Railroad Speedometer.
Programmable from the front panel for N or HO, miles or kilometers this unit stands over any track,
and displays the correct scale speed of a train as it passes, in either direction.
Suitable for DC or DCC, the unit runs from two AAA batteries (included) and has auto power off when not in use.

For more details and options, click here to see the simplest choices in model rail speed measurement..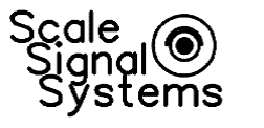 We are pleased to now offer the Scale Signal Systems products. See below for some more information, and our direct online purchase information is coming soon.
Scale Signal Systems manufactures Modular Signal System (MSS) components and other handy DCC products.
With these products you can animate your Layout or Free-mo Module with prototype signals the easy way.
Our components (Signal Drivers, Detectors, Crossover Breakout, Straight Break Out, and Cascade boards) are the smart way to add MSS 2.0 signal animation to a new or existing layout or free-mo module. We also manufacture a signal plug that allows you to quickly and safely store signals when transporting modules.
Check out the Scale Signal Systems web site for more information.
Our custom track Power Indicator is designed to clip onto the rails of any scale from O to Z, and provide an instant indication of the presence of power.
Showing a Red aspect for positive power on the flexible lead, Green for negative, and Orange for DCC, this can help show that the power is present, and aid in diagnosing strange track power behavior, troublesome locos, etc.
Now available from us online, a small switcher loco, and a small chassis for kit building.
This little switcher has a Japanese heritage, but would not be out of place - with appropriate paint and logos - in many industrial yards anywhere in the world.
The switcher comes painted as shown, and with a number of separate detail parts, such as the smokestack, horn and railings seen here, for the modeller to apply as you choose.
Including a powerful motor with gear drive to the axle, and directional LED lights, this is a useful and surprisingly powerful little unit.
It comes unlettered, and the "GW" and "12" on this example are just to illustrate potential customization that you might make.
The basic power chassis used in the switcher is also available separately - with different LED lights fitted - here, in very limited quantities.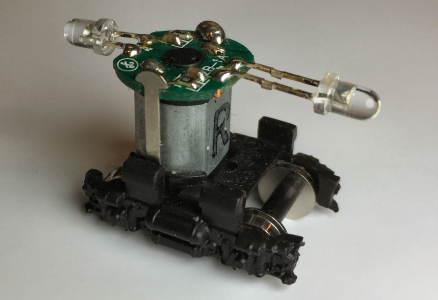 Each unit includes 12v motor, directional forward and reverse LED lights, all wheel pickup and impressively powerful traction for such a small and light unit.
To buy either of these little units, please see our Online Store.
Installation of the decoders into many locomotives is now a straightforward process, with more "drop in" decoder models available from several vendors.
For those more unusual installations we have offered decoder installation as a service. Although we are no longer able to provide this service, we do show some examples that might give helpful insight.
Follow the link to see some step-by-step examples.
Model railroads come in many sizes, and at the BBM Group we specialize in N Scale, with a track gauge of Nine millimetres.
The second most popular size in model rail today, "N" trains run on track with a gauge of 9mm, available from many vendors in ready-to-run and customizable form.
However, strangely enough, around the world there are three different sizes or scales in use for "N" gauge! In the USA and related markets, and in most of Europe, the scale is 1 to 160, while in Japan they adopted 1 to 152, and in the UK it is 1 to 148.